Details
Vesta Precision Chamber Vacuum Sealer - Chamber Vac Pro I
• Built in pressure sensor. Auto sealing after vacuum suction
• Customizable sealing and marinate time
• Digital panel to show the working progress
• Dry pump operation
• Pairs well with vacuum seal pouches and rolls, and sous vide products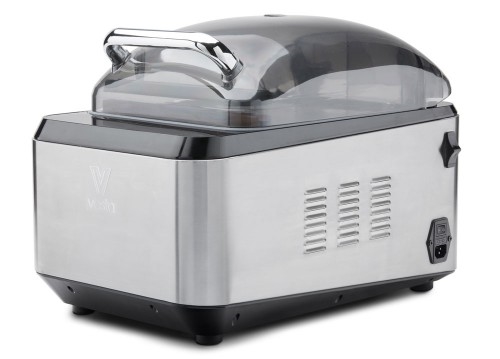 Features

INNOVATIVE BUBBLE-TOP DESIGN

VERSATILE AND COMPACT

POWERFUL PUMP FOR PROFESSIONAL KITCHENS

VACUUM CHAMBER WITH PUMP FOR SMALL RESTAURANTS

Lighter than traditional vacuum chamber machines because of its bubble-top design which also lets you see the inside of the vacuum sealer.

The small and all-around vacuum sealer works for all types of sealing. Perfect for small restaurants and food trucks.

The 580-Watt dry pump is small, powerful, and requires no maintenance. Making this versatile and compact chamber vacuum sealer ideal for use in commercial kitchens.

Vacuum sealers can keep food fresh 3 to 5 times longer than traditional food preservation systems like zipper baggies and containers.
Vesta Precision's Chamber Vac Pro I uses a small yet powerful 580 watt dry pump, creating a versatile and compact chamber vacuum sealer, perfect for smaller restaurants, food truck operations, and more. The innovative bubble top design makes the unit lighter than traditional chamber vacuum sealers, while allowing visibility into the chamber. This handy tool works beautifully for all types of sealing; including soups, stews, and marinades, as well as foods for sous vide cooking.


Specifications
Pump Type
Duo Dry
Vacuum Pressure
-29.1"/ -985mbar
Seal Bar
Width: 3mm (0.14") Length: 254mm (10")
Dimensions
360x508x330mm / 14.2" x 20" x 13"
Materials
Steel & ABS & PC
Volts
(220-240)V±10% EU
Watts
580W EU +5%/-10%
Certifications
GS, CE(EMC/LVD), RoHS, Reach, ETL
Weight
16.7 kg